Through the tears welling up in my eyes, I looked down at the opening and closing of my hand.
First I wrapped my four right fingers over my thumb and pressed them against the centre of my palm into a fist. I examined it for several seconds, then slowly released the fist until my fingers were outstretched. For a few moments more, I gazed at my open hand, before closing it again.
After several minutes I started to sync the motions with my breath so I inhaled as the fist closed, and exhaled as it opened. With every in breath I silently repeated Ya Qabid (The One Who Constricts), one of the 99 Qualities of Allah, understood as the Divine Reality in the Islamic Sufi tradition. With each out breath, Ya Basit (The One Who Expands Our Hearts), emerged in a whisper from my lips.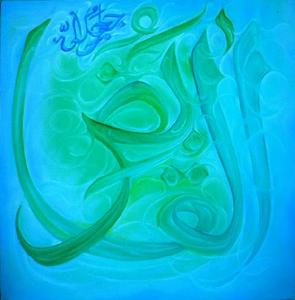 I concentrated on this meditation long after the sobbing had ceased, mesmerized by the incredible workings of the human body. Rumi's poetry frequently references the harmony between expansion and contraction. In a physical sense, it keeps us alive: the rise and fall of our diaphragms brings forth breath and the heart constricts and expands to move blood through our veins.
And yet, when it comes to emotions, how often in life have I clung to joy and sought to prolong it, and deemed pain as "bad" and sought to keep my sojourn in grief and sorrow as brief as possible. In my meditation, a more visceral understanding of the importance of accepting the difficulty and ease of life with equal graciousness settled into my heart.
Rumi alludes to this in the verse Two Wings:
Observe the qualities of expansion and contraction

In the fingers of your hand 

Surely after the closing of your fist comes the opening. 

If the fingers were always closed or always open,

the owner would be crippled.

Your movement is governed by these two qualities:

They are as necessary to you as two wings are to a bird.

(Mathnawi III, 3762-66)*
Working with Divine Names like Ya Qabid and Ya Basit has been transformative for my spiritual practice this year as I engage with some old psychological wounds that had been buried in the depths of my subconscious. In the Sufi tradition, we understand the Names as Qualities of Reality which we can activate in ourselves by consciously holding them and allowing their essence to unfold within us.